K-12 & Community Education
With an interdisciplinary team, Maya is organizing Research Education and Activities for Community Teachers (REACT), a one-day workshop for science and engineering educators to be held virtually in summer 2020.
In her role as CNF Ambassador, Maya volunteered through the Cornell NanoScale Facility (CNF) K-12 Outreach Program and presented her research via Zoom Outreach to Ithaca High School in June 2020.
Rachael represented the Black Sheep Handspinners Guild at Ag Day on October 18, 2019.
Photo credit: Black Sheep Handspinners Guild
Maya volunteered with through the Cornell Center for Materials Research (CCMR) K-12 Programs at Big Red STEM Day 2019 in NYC.
Higher education
Maya volunteered as a teaching assistant through the Cornell Prison Education Program (CPEP) and supported incarcerated students at the Auburn Correctional Facility with their math and physics studies in fall 2019 and spring 2020.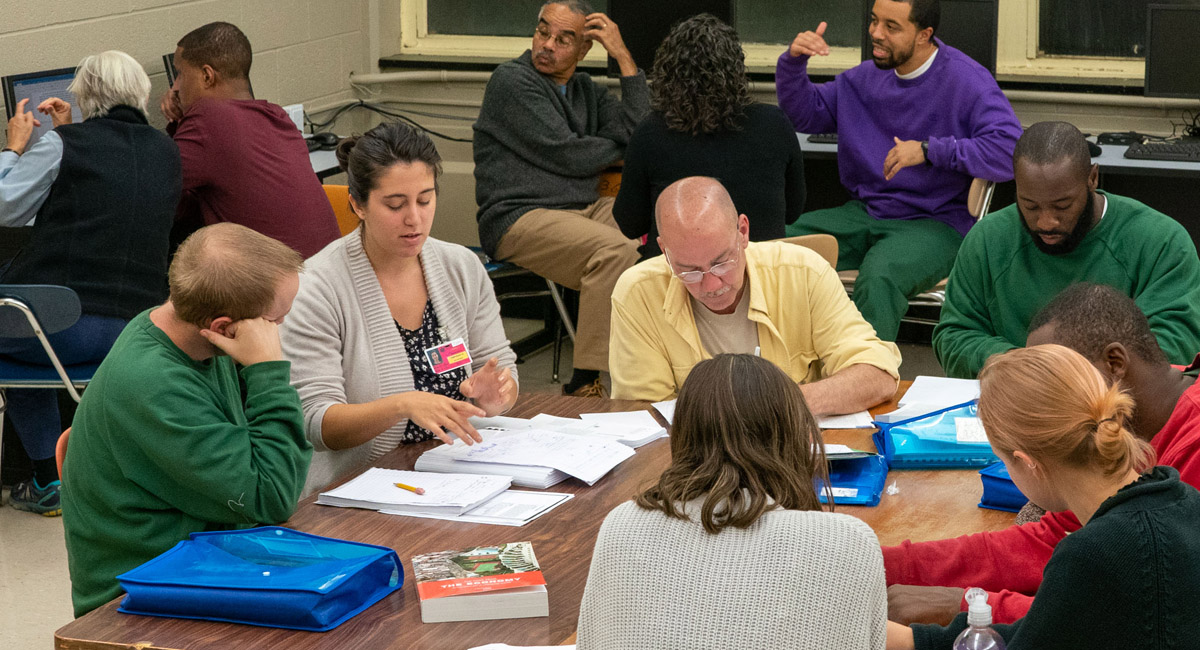 Photo credit: Cornell Prison Education Program (CPEP)
Science advocacy
Julia organized editWikipedia4BlackLives in observance of the A Strike For Black Lives (also termed ShutDownSTEM).
The community of Wikipedians came together, volunteered to give three live online tutorials for new editors, and held all-day drop-in Zoom office hours on June 10, 2020.
Over the course of 24 hours, over 200 volunteer editors created over 50 articles, edited over 480 Wikipedia pages, and added over 100,000 words to Wikipedia. Most of the editors were located in the US, with others joining from Europe, Africa, Asia, Australia, and other parts of the Americas. (The event was mentioned on WIRED.)